Palomino Quartzite is a yellow natural stone with brown veins. The veins of this quartzite stone are in the shape of lines, and the overall surface of the slab is divided into pentagon-like blocks on the surface. From the perspective of the overall slab surface, this pattern shape makes the overall slab surface a bit like a whole nest of dinosaur egg fossils, and also a bit like cells magnified by a microscope. The texture of the overall slab surface is both classic and high-end.
Quartzite is a kind of natural stone with extremely high hardness, heat resistance and stain resistance. The surface of quartzite slabs is smooth and flat without scratches. The dense and non-porous material structure makes it easy to clean. Therefore, quartzite is very suitable for producing kitchen countertops, bar tops, bathroom vanity tops, dining and coffee table tops, interior flooring and wall tiles, stair treads, etc.
Available Finishes: polished, honed, leathered, etc.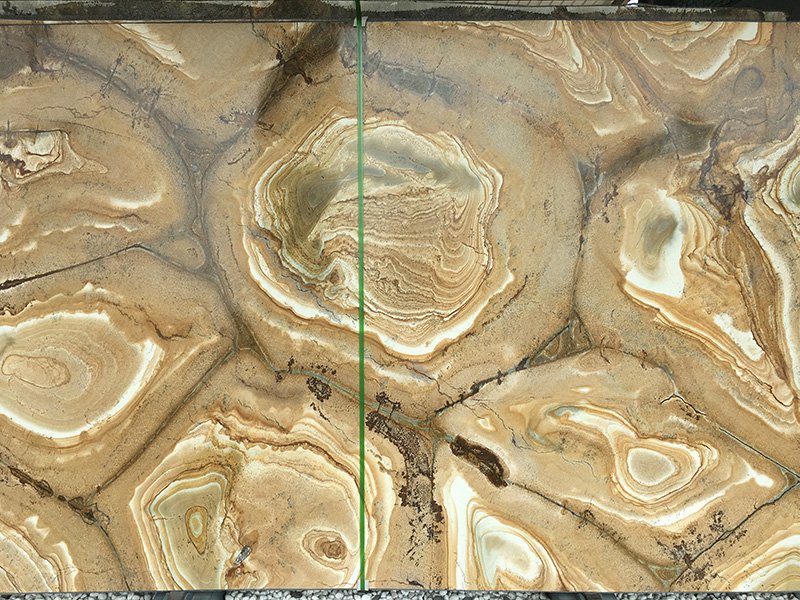 Sizes of Palomino Quartzite
Countertops: 96″ × 26″, 108″ × 26″, 96″ x 16″, 72″ x 36″, 76″ x 36″, 1800mm x 600mm and 2400mm x 600mm;
Vanity Tops: 25″ x 22″, 31″ x 22″, 37″ x 22″, 49″ x 22″ and 61″ x 22″;
Quartzite Tiles: 300mm x 300mm and (12″ x 12″), 400mm x 400mm and (16″ x 16″), 457mm x 457mm and (18″ x 18″), 300mm x 600mm and (12″ x 24″), 600mm x 600mm and (24″ x 24″);
Quartzite Slabs: (1800mm – 3200mm) x (600mm – 2200mm);
Thickness: 10mm, 12mm, 16mm, 18mm, 20mm, 23mm, 25mm, 30mm, 50mm and 100mm, etc.
In addition, customized sizes and thickness are also available according to your request.
Packaging of Palomino Quartzite
Quartzite stone products are packed in strong wooden crates or bundles, meanwhile, every wood is fumigated as per current international requirements ISPM15. Details as following,
Quartzite Slabs: padded with plastic film between slabs, after that, packed in strong seaworthy wooden bundles;
Tiles and Mosaics: 6-10 pieces in one foam or paper box inside and strong seaworthy wooden crates outside, moreover, reinforced with metal straps;
Quartzite Countertops, Table Tops and Vanity Tops: padded with foamed plastics, after that, packed in fumigated wooden crates, meanwhile, reinforced with metal straps outside;
Medallion, Stairs and Cut-to-sizes: packed in foam inside and strong seaworthy wooden crates outside, furthermore, reinforced with metal straps.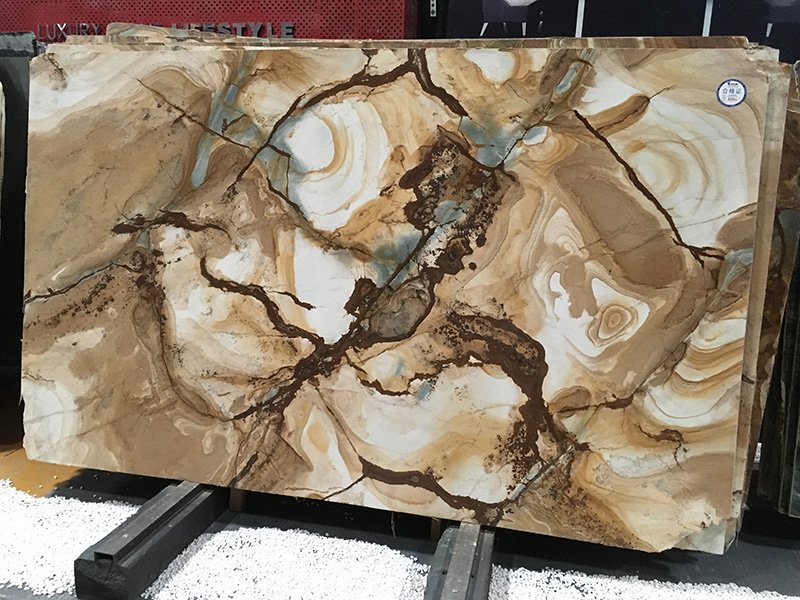 Warmly welcome project purchasing managers, designers, importers, wholesalers and individual home owners, etc. If you have any request for Palomino Quartzite, please feel free to contact us, our customer service department is at your complete disposal. We will keep providing quality products and excellent service for you.