Backlit Onyx Table Tops Dining Coffee Tables For Sale
Backlit Onyx Table Tops Dining Coffee Tables are for sale at competitive price here at Eonyx Stone Factory. Rectangular, round, oval, square and other special shapes of table tops are all available from our professional factory. Besides, we also supply different styles of table tops, such as Antique Onyx Coffee Table Tops and Vintage Onyx Table Tops. Not only the Onyx Desk tops can be bought here, but you can also buy the Onyx Stone Dining and Coffee Table Sets here.
The colors and patterns of natural onyx show a variety of styles depending on the place of origin. Over the years, through in-depth cooperation with onyx quarries around the world, onyx has become our company's superior product. As a professional manufacturer of onyx stone, our factory has a variety of natural onyx colors available for you to choose and buy. Such as white onyx, pink onyx, yellow onyx, blue onyx, green onyx, black onyx and gray onyx, etc. You may find the details in the following onyx colors.
Edge Profiles of Onyx Dining Table Tops and Coffee Table Tops
Our factory could do diverse edge profiles for Backlit Onyx Table Tops. There are many edge treatments available for you to choose, including straight polished, radius, pencil, bevel, bullnose, laminated bullnose, ogee bullnose and straight with apron, etc. You may find the detail types in the following drawings.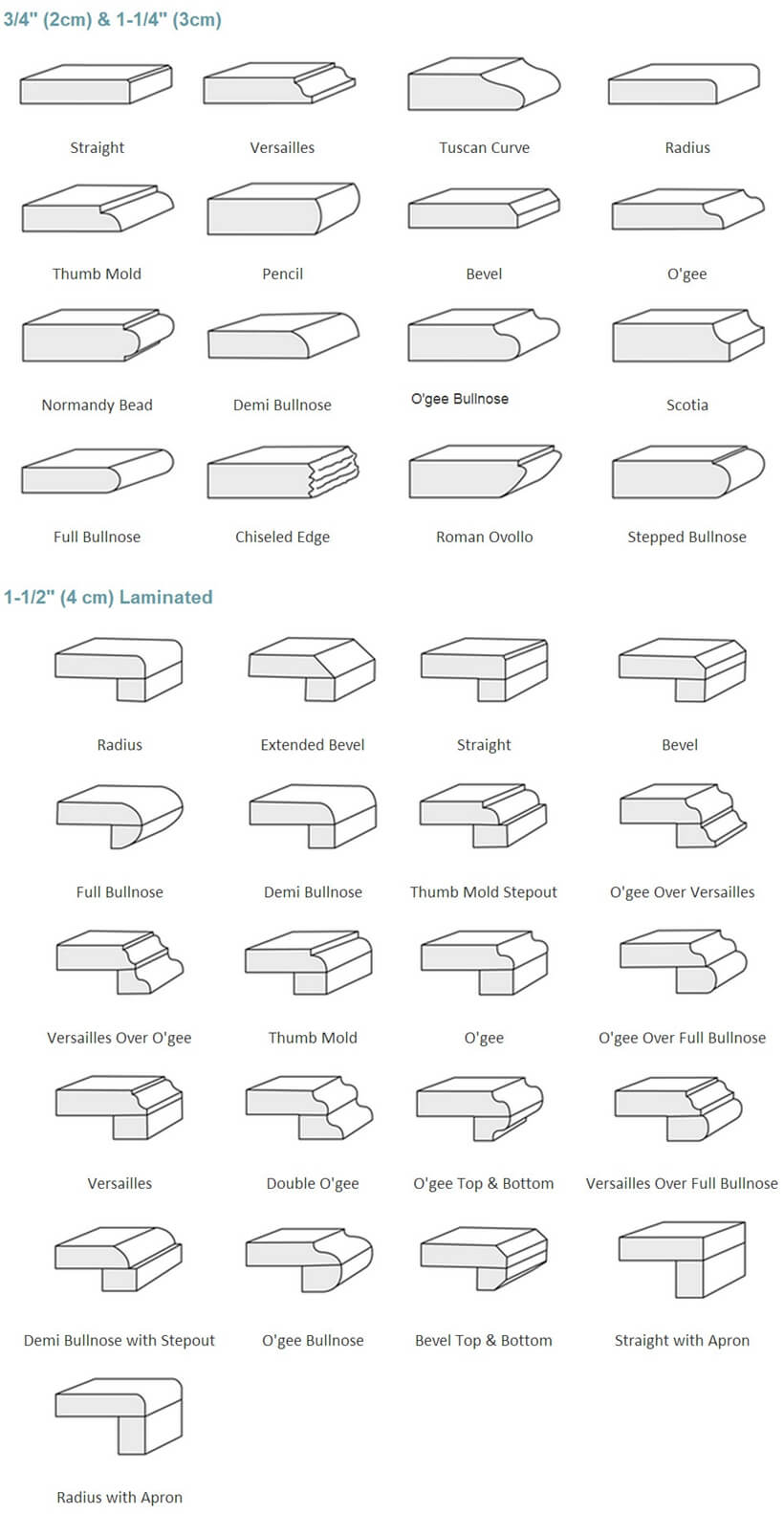 Packaging of Onyx Marble
Stone products are packed in strong wooden crates or bundles, meanwhile, every wood is fumigated as per current international requirements ISPM15. For example,
Onyx Slabs: padded with plastic film between slabs, after that, packed in strong seaworthy wooden bundles;
Tiles and Mosaics: 6-10 pieces in one foam or paper box inside and strong seaworthy wooden crates outside, moreover, reinforced with metal straps;
Onyx Coffee Table Tops and Dining Table Tops: padded with foamed plastics, after that, packed in fumigated wooden crates, meanwhile, reinforced with metal straps outside;
Medallion, Stairs and Cut-to-sizes: packed in foam inside and strong seaworthy wooden crates outside, furthermore, reinforced with metal straps.
Features of Onyx Marble Stone Table Tops
The onyx table top is stylish and high-grade, its surface is smooth and shiny. And texture of natural onyx stone is unique and rich, which helps to enhance the taste of the entire space.
Natural onyx has stable physical properties, low deformation rate, the tabletop structure made is strong, good wear resistance, anti-scratch, corrosion resistance to acid and alkali liquids. It is barely affected by temperature changes, and the service life is long. And onyx is not easy to be contaminated with dust, which is convenient for cleaning and maintenance.
The onyx tabletops can be shaped into various styles, including Antique Onyx Coffee Table Tops, Onyx Coffee Table Oval, round tables, modern and minimalist styles. The selection and design of the table top should be matched with the overall style of home decoration.
The onyx tabletops on the market are mainly divided into two categories: natural onyx and artificial onyx. Among them, natural onyx has good light transmission performance and unique natural texture and color.
The artificial onyx table top is made of onyx or marble crushed stone as the filler, using gypsum and unsaturated polyester resin as the adhesive, and is produced by stirring, pressing, cutting and polishing. Artificial onyx is far inferior to natural onyx in terms of transparency and gloss.
Price of Backlit Onyx Marble Table Tops
The price of onyx dining table tops and onyx coffee table tops varies according to the color, quality grade, size, processing method and manufacturer of the stone. When choosing natural onyx products, be sure to choose a branded manufacturer with quality assurance, such as Eonyx Stone. Although the prices of branded natural onyx table tops are not cheap. However, the workmanship of this kind of onyx will be more elaborate, and the quality of the brand onyx table top is guaranteed. Onyx coffee tables are very suitable for high-end interior decoration. In addition, due to differences in performance and cost, natural onyx is generally more expensive than man-made onyx.
Tips for Onyx Tabletop Maintenance
Keep your table tops dry and clean everyday
If the onyx tabletop does not have regular maintenance and care, plus hard objects such as dust and fine sand grains often rub the onyx tabletop regularly, it will make the onyx tabletop gloss darker, the surface becomes gray, and even the hand feeling will be rough. It may cause slight damage to the onyx desk surface or even serious wear. Therefore, the onyx desk tops needs to be cleaned regularly to maintain daily cleanliness.
When cleaning the onyx table top, it should be noted that because the natural stone has tiny holes, the liquid could easily penetrates into the onyx, and the stone will corrode if it is in contact with water for a long time. Therefore, for daily care and cleaning, it should be noted that when cleaning, use as little water as possible, wipe with a slightly damp cloth with a mild detergent, and then dry with a clean soft cloth to keep the table top clean and dry .
Treatment of scratches on the onyx dining and coffee table tops
For the slightly scratched onyx tabletops, special cleaning agents and care agents for nursing onyx furniture can be used for maintenance. The operation is simple and the effect is very good. For the onyx table top that is badly worn, which is more difficult to handle, it can be wiped with steel wool, and then polished with a hand-held electric grinder to restore the gloss of the tabletop.
Selection of onyx cleaner
The main component of onyx is calcium carbonate, which should not be contacted with acidic liquids, such as vinegar and lemon juice. Household detergents containing improper pH will destroy the luster of the onyx surface, especially the acidic detergent will react with calcium carbonate in the stone, causing the stone to form permanent yellow spots.
When the surface of the onyx furniture is dirty and cannot be cleaned, that a liquid detergent is needed, lemon juice, vinegar or other mild detergent can be used to treat the surface dirt. However, it must be noted that the time for lemon juice or vinegar to stay on the desk top should not be too long, otherwise it will penetrate into the onyx table tops and cause damage to the onyx. The time should be controlled within 1 ~ 2 minutes. Repeat the operation if necessary. After wiping, you must scrub again with clean water, and finally wipe it clean with a dry cloth.
When there is oil on the onyx table, depending on the principle that similar substances can be dissolved. It can be wiped with ethanol (alcohol), acetone or lighter oil, etc., and then washed and dried. To treat cosmetics, tea and tobacco stains, apply hydrogen peroxide to the surface of onyx furniture for two hours, then wash and dry.
Contact Us
If you're interested in illuminated Onyx Table Tops Dining Coffee Tables Costs, just feel free to contact us, (E-mail: eonyx@foxmail.com Phone/WhatsApp: 0086-15805032000 or filling out the form below) we will keep providing quality products and excellent service for you.