Backlighting Onyx Kitchen Countertops and Bar Tops
Backlighting Onyx Kitchen Countertops and Bar Tops are for sale at competitive price here at Eonyx Stone Factory. Natural onyx is a metamorphic rock formed by limestone through the action of high temperature and high pressure in the earth's crust. The stone has great light transmission properties. In addition, it has a clear and diverse texture. Natural onyx is very suitable for processing onyx brand countertops, kitchen countertops and bar tops. The onyx countertops and bar tops have the characteristics of dense material, compression resistance, rich color, long-lasting durability, medium corrosion resistance, low water absorption rate and not easy to deform. Through the backlight technology, the onyx countertops and bar tops can create a very dreamy and modern indoor atmosphere.
The colors and patterns of natural onyx show a variety of styles depending on the place of origin. Over the years, through in-depth cooperation with onyx quarries around the world, onyx has become our company's superior product. Our factory has a variety of natural onyx colors available for you to choose from. Such as white onyx, pink onyx, yellow onyx, blue onyx, green onyx, black onyx and gray onyx, etc. You may find the details in the following onyx colors.
Edge Profiles of Onyx Countertops and Bar Tops
Our factory could do diverse edge profiles for Onyx Kitchen Countertops and Lighted Onyx Stone Bar Tops. There are many edge treatments available for you to choose, including straight polished, radius, pencil, bevel, bullnose, laminated bullnose, ogee bullnose and straight with apron, etc. You may find the detail types in the following drawings.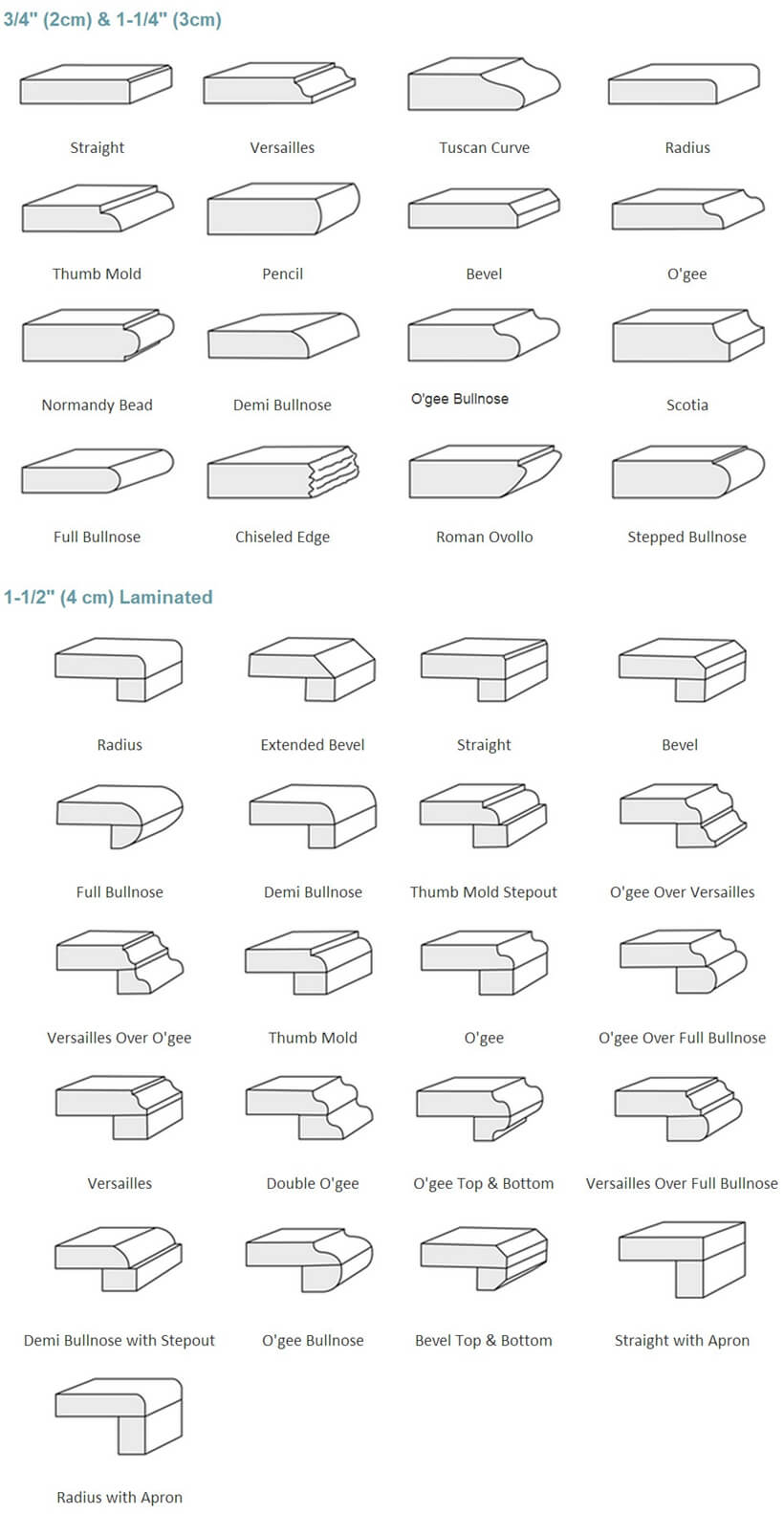 Maintenance for Onyx Countertops and Bar Tops
Natural onyx has an elegant luster and good light transmission properties. However, because natural stone has certain small pores, it is very important to maintain onyx countertops and bar tops regularly. Only by paying attention to the maintenance of natural stone can the gloss and color of the stone be maintained for a long time.
Sealing protection helps prevent small holes in the onyx countertops from absorbing liquids and dirt, thereby preventing the stone from being damaged and contaminated. Therefore, before leaving the factory, we will seal and protect the onyx products. And in daily use in the later period, it is necessary to regularly maintain the onyx countertops and bar tops. At the same time, you should try to avoid scratching hard objects and steel balls scratching the onyx bar tops. Any scratches will reduce the protective effect of the stone.
Since acidic liquids such as orange juice, lemon, soda, various foods, and acidic household cleaners will corrode the onyx countertops and onyx bar tops, do not use acidic cleaners on onyx. For routine cleaning, use soft liquid cleaners containing bleaching ingredients or ordinary household detergents. In addition, try to avoid water stains remaining on the countertops and bar tops, remember to rinse and dry with a rag after each use. The best advice for removing corrosion and water stains is asking a professional for maintenance and re-grinding and polishing.
Contact Us for Onyx Countertops