Onyx Kitchen Benchtops for Sale
Onyx Kitchen Benchtops are for sale here at Eonyx Stone Factory. You could buy the quality benchtops at very competitive price from our onyx factory. The colors and patterns of natural onyx show a variety of styles depending on the place of origin. Over the years, through in-depth cooperation with onyx quarries around the world, onyx has become our company's superior product. As a professional manufacturer of onyx stone, our factory has a variety of natural onyx colors available for you to choose and buy. Such as white onyx, pink onyx, yellow onyx, blue onyx, green onyx, black onyx and gray onyx, etc. You may find the details in the following onyx colors.
Edge Profiles of Onyx Stone Benchtops
Our factory could do diverse edge profiles for Backlit Onyx Benchtops. There are many edge treatments available for you to choose, including straight polished, radius, pencil, bevel, bullnose, laminated bullnose, ogee bullnose and straight with apron, etc. You may find the detail types in the following drawings.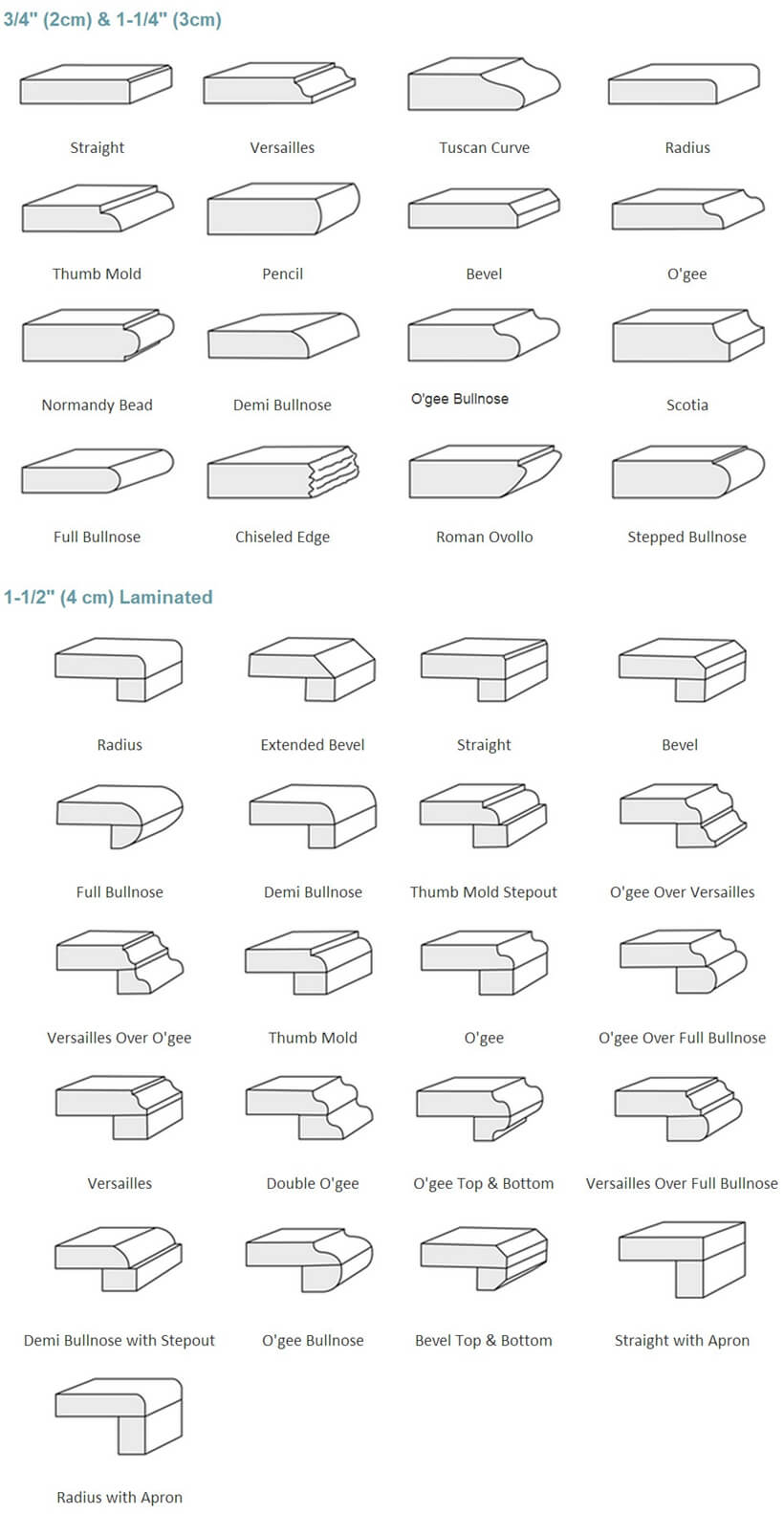 Packaging of Onyx Marble
Stone products are packed in strong wooden crates or bundles, meanwhile, every wood is fumigated as per current international requirements ISPM15. For example,
Onyx Slabs: padded with plastic film between slabs, after that, packed in strong seaworthy wooden bundles;
Tiles and Mosaics: 6-10 pieces in one foam or paper box inside and strong seaworthy wooden crates outside, moreover, reinforced with metal straps;
Onyx Kitchen Benchtops: padded with foamed plastics, after that, packed in fumigated wooden crates, meanwhile, reinforced with metal straps outside;
Medallion, Stairs and Cut-to-sizes: packed in foam inside and strong seaworthy wooden crates outside, furthermore, reinforced with metal straps.
Onyx kitchen benchtop is a high-end and luxury natural stone products. Now benchtops of this material are becoming more and more popular all over the world. Because of the exquisiteness of onyx products, onyx benchtops need more attention to regular cleaning and maintenance. So what should be paid attention to when cleaning and maintaining the onyx countertops? Let's take a look together.
How to clean and maintain onyx benchtops?
Choose a soft rag when cleaning the benchtops. The detergent is preferably neutral and non-abrasive. It is best to choose a mild washing liquid and clean the benchtops with water.
Some daily cleaners can be used to clean the benchtops, but sometimes they will leave traces. It is okay to use these products occasionally. But it must be remembered that the more irritating the product is, the easier it is to destroy the curing agent on the onyx. So warm water and sponges are the best cleaning products.
The solution made of vinegar and water can remove food stains and oil stains efficiently.
Avoid contact with natural onyx benchtops by products containing citric acid, vinegar or other acids, because natural onyx could be easily corroded by acid.
After cleaning the benchtops with detergent, you need to wash it again with clean water, and finally dry it with a soft dry cloth.
Occasional use of countertop polishing wax can prevent small hard objects from scratching the onyx countertops and make the onyx look more delicate.
Don't put high-temperature items directly on the onyx kitchen benchtop, so as to avoid cracks and damage to the natural stone due to sudden heat.
Contact Us
If you're interested in Onyx Kitchen Benchtops Price, just feel free to contact us, (E-mail: [email protected] Phone/WhatsApp: 0086-15805032000 or filling out the form below) we will keep providing quality products and excellent service for you.