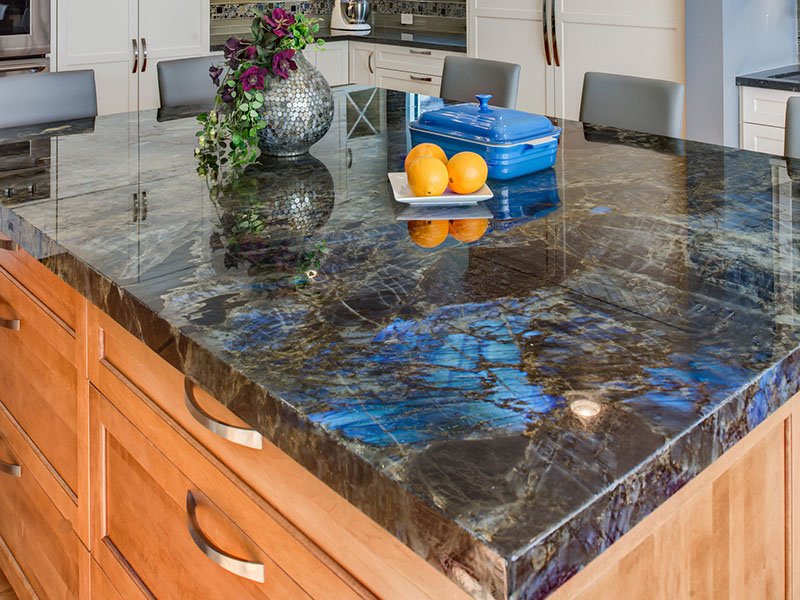 Labradorite Blue Granite Countertops Slabs Tiles Price
Labradorite Blue Granite is a natural luxury stone which is very similar to blue emerald. This natural stone feels very crystal clear and translucent, and the overall granite slab is like a huge precious blue jade. The granite slab has dark green, dark grey and black textures. Among them, the dark green veins occupy the largest area of the granite slab, and it is these dark green veins that shape the color tone of the overall granite slab. In addition, the granite slabs also have feather-like textures. These textures are made up of two colors, dark gray and black, which are combined with each other. All these veins are like crystals, very transparent. However, on this natural granite slab, the most dazzling, and the thing that can enhance the value of the overall granite slab is the sapphire-like texture. These blue veins are both very transparent and very deep, making this natural granite a rare and precious stone.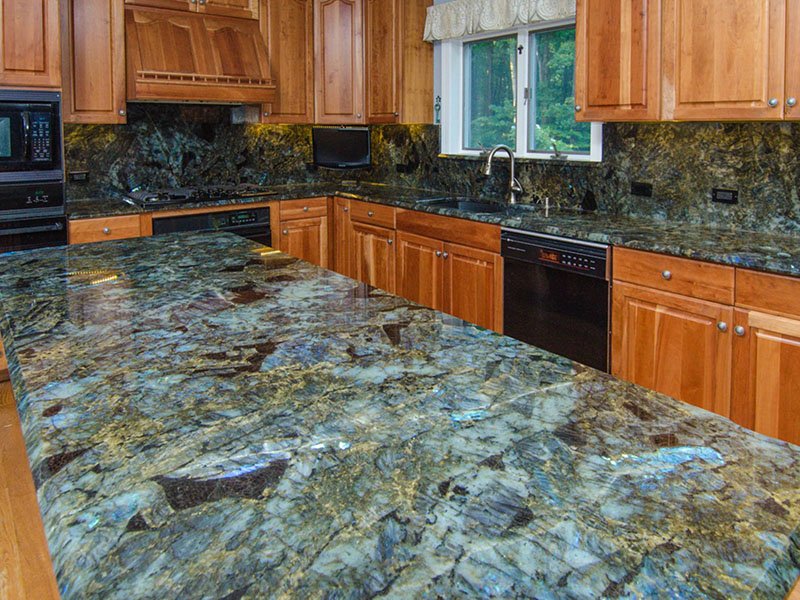 Available Finishes of Granite Slab Surface:
polished finish, leathered finish, honed finish, flamed finish, brushed finish, unpolished finish, chiseled finish, rough finish, matt finish, bush hammered finish, sandblasted finish, grooved finish, tumbled finish, mushroom finish, natural split finish, pineapple finish, etc.
Edge Profiles Options of Granite Countertops:
eased edge, pencil round edge, beveled edge, chiseled edge, ogee edge, waterfall edge, full bullnose edge, 1/4 bevel edge, half bullnose edge, 1/4 round edge, mitered edge, rough edge, 1/2 bevel edge, flat polish edge, demi bullnose edge, quarter round edge, square edge, rough edge and others.
Labradorite Blue Granite Applications:
granite kitchen countertops, slabs, backsplash and sidesplash, flooring tiles and wall tiles, bathroom vanity tops, dining table top, kitchen island countertops, steps and stairs treads, coffee table top, fireplace, post, paving stones and setts, curbstone, kitchen table top, window sill, bar countertop, cobblestone pavers, furniture, umbrella stand base, paving bricks and outdoor tiles, shower base, granite driveway, pathways and walkway pavers, statue, sculpture and carving, bathtub and tub surround, fountain, threshold, bathroom tiles and shower wall slabs, columns and pillar, pool coping and liner, breakfast bar tops, conference table, office desk tops, worktops, bench tops, moulding etc.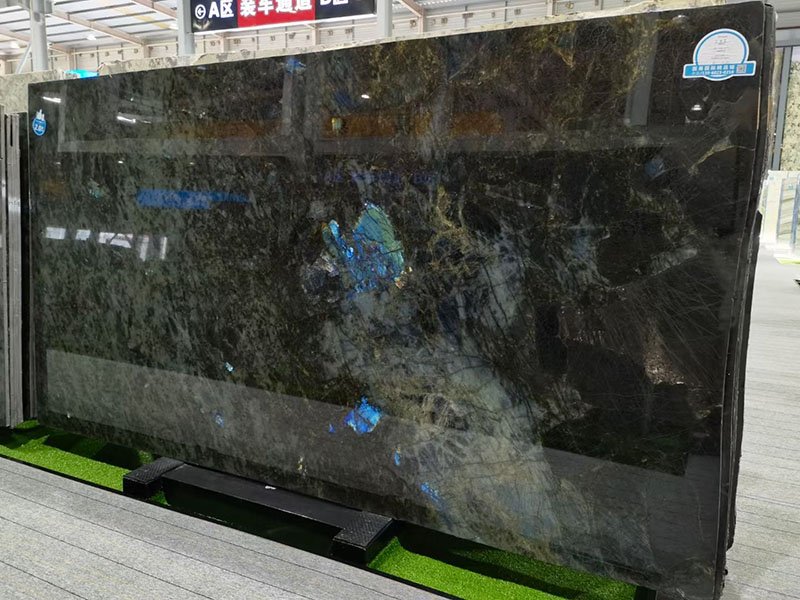 Warmly welcome project purchasing managers, designers, importers, wholesalers and individual home owners, etc. If you have any request for Labradorite Blue Granite, please feel free to contact us, our customer service department is at your complete disposal. We will keep providing quality products and excellent service for you.