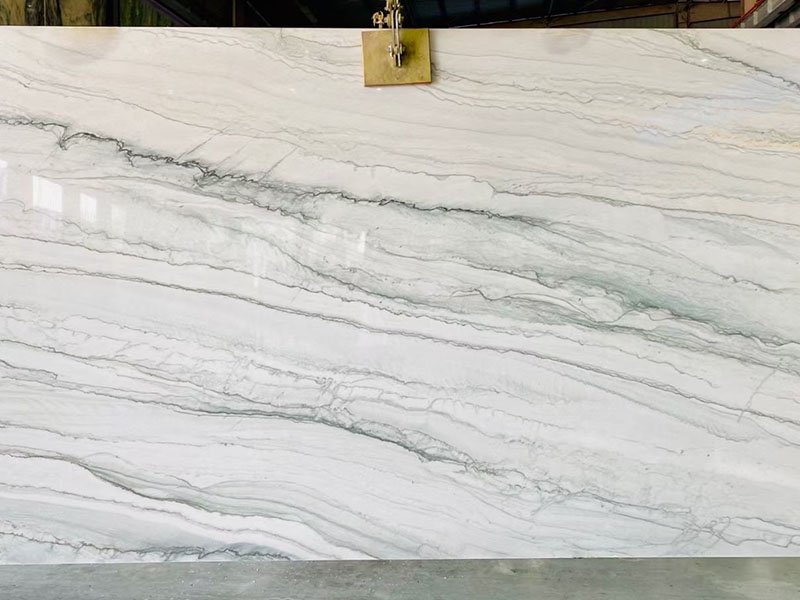 White pearl quartzite is a kind of natural stone quarried from Brazil. Our company has developed a long-term and in-depth cooperation with this quarry. The overall surface of white pearl quartzite slab is light gray, which is very close to white. This white with gray color shows the high-quality texture of natural stone. On the light gray slab surface background, there are rich slender lines obliquely distributed, some of these lines are gray and some are dark gray, accompanied by a few light green striped lines. Rich textures stacked in multiple layers on the slab, which looks like a beautiful natural landscape. It is as if there are gorges one after another in the mountains, echoing each other, but they are not intertwined.
Features of White Pearl Quartzite
The light gray color of natural stone is a very popular color in recent years, especially the market share of gray-tone marble is growing rapidly. White pearl quartzite not only has the rich and diverse natural texture of natural marble, but also retains the hard, heat-resistant and wear-resistant properties of natural quartzite stone.
What are the Requirements for High-Quality Kitchen Countertops
The kitchen is like a battlefield, and only high-quality countertops can avoid being devastated in this war. A high-quality countertop must meet four standards: wear resistance, stain resistance, flame retardancy and environmentally friendly. Only in this way can it resist daily knife cutting and fire roasting in the kitchen, and be durable, safe and secure.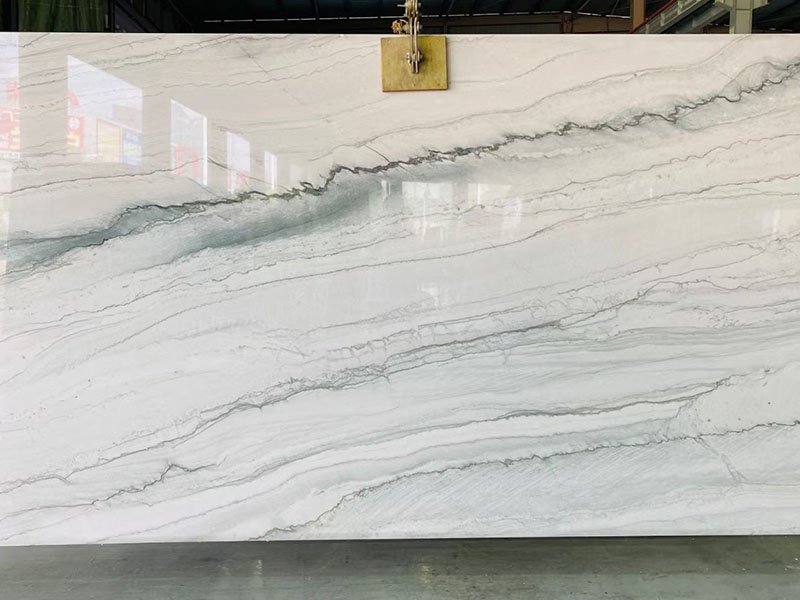 What can White Pearl Quartzite Slabs be Used for
White pearl quartzite slab is hard, wear-resistant, not afraid of scratches, and has good heat resistance. It is very suitable for processing all kinds of kitchen countertops, bar tops, bathroom vanity tops and table tops, etc. White pearl quartzite slabs can also be used on indoor floors, stair treads, walls, and it could be durable. The effect of countertops which made of white pearl quartzite, the light gray noble temperament and the unique texture effect of white pearl quartzite will make the atmosphere of the entire interior space to a higher level. White pearl quartzite is used in many home decorations. This natural quartzite, which color is light gray and close to white, gives people a tasteful, subtle, delicate, elegant and intriguing feeling, and it is the designer's favorite.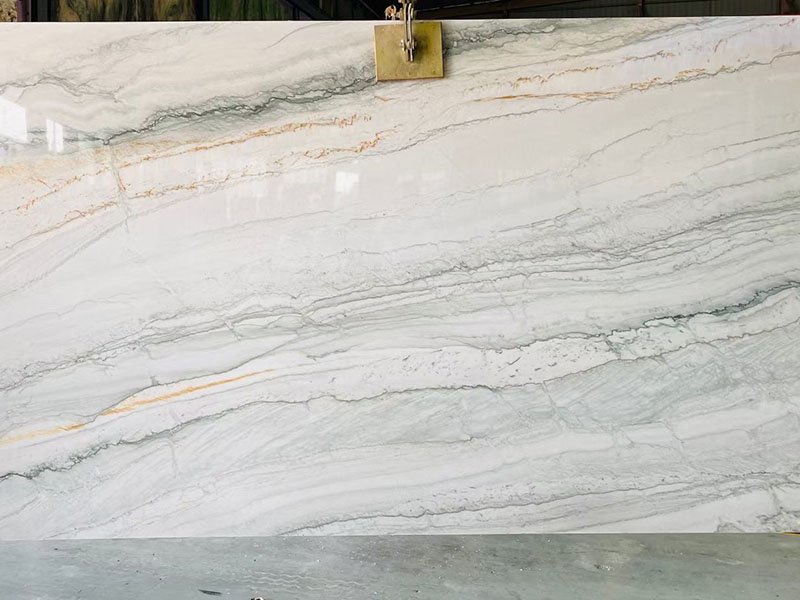 Sizes of White Pearl Quartzite
Countertops: 96″ × 26″, 108″ × 26″, 96″ x 16″, 72″ x 36″, 76″ x 36″, 1800mm x 600mm and 2400mm x 600mm;
Vanity Tops: 25″ x 22″, 31″ x 22″, 37″ x 22″, 49″ x 22″ and 61″ x 22″;
Quartzite Tiles: 300mm x 300mm and (12″ x 12″), 400mm x 400mm and (16″ x 16″), 457mm x 457mm and (18″ x 18″), 300mm x 600mm and (12″ x 24″), 600mm x 600mm and (24″ x 24″);
Quartzite Slabs: (1800mm – 3200mm) x (600mm – 2200mm);
Thickness: 10mm, 12mm, 16mm, 18mm, 20mm, 23mm, 25mm, 30mm, 50mm and 100mm, etc.
In addition, customized sizes and thickness are also available according to your request.
Packaging of White Pearl Quartzite
Quartzite Stone products are packed in strong wooden crates or bundles, meanwhile, every wood is fumigated as per current international requirements ISPM15. Details as following,
Quartzite Slabs: padded with plastic film between slabs, after that, packed in strong seaworthy wooden bundles;
Tiles and Mosaics: 6-10 pieces in one foam or paper box inside and strong seaworthy wooden crates outside, moreover, reinforced with metal straps;
Quartzite Countertops, Table Tops and Vanity Tops: padded with foamed plastics, after that, packed in fumigated wooden crates, meanwhile, reinforced with metal straps outside;
Medallion, Stairs and Cut-to-sizes: packed in foam inside and strong seaworthy wooden crates outside, furthermore, reinforced with metal straps.
Applications of White Pearl Quartzite
Commercial and Residential.
Interior Flooring and Walls.
Quartzite Dining and Coffee Table Tops.
Countertops, Vanity Tops and Bar Tops.
Quartzite Wall Panels.
Exterior Wall Cladding and Floor Pavers.
Medallion and Mosaic.
Pillar and Balustrade.
Moulding and Border.
Door Threshold and Window Sills.
Quartzite Bathtub, Shower Base and Tub Surround
Fireplace and Mantel.
Quartzite Furniture.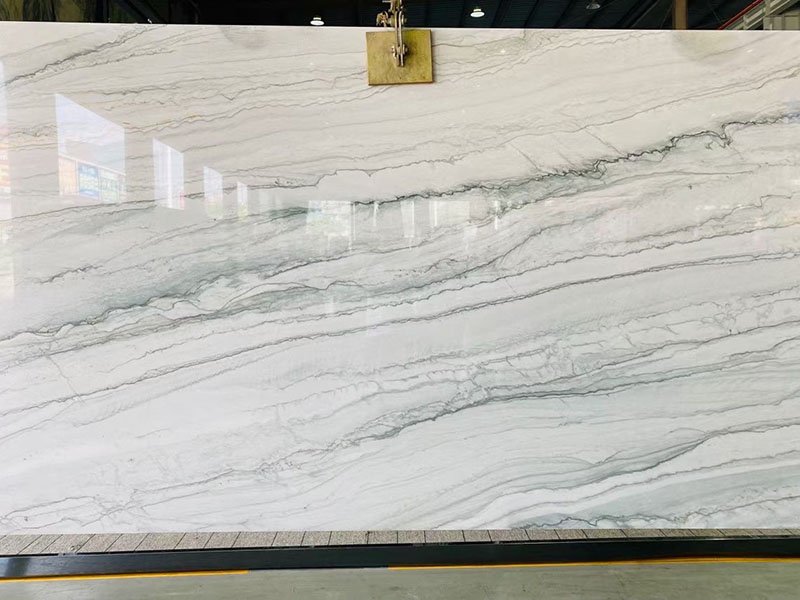 Warmly welcome project purchasing managers, designers, importers, wholesalers and individual home owners, etc. If you have any request, just feel free to contact us, our customer service department is at your complete disposal for any questions. We will keep providing quality products and excellent service for you.